Workshop: Bern, Burgerbibliothek, MS 389 and Its Songs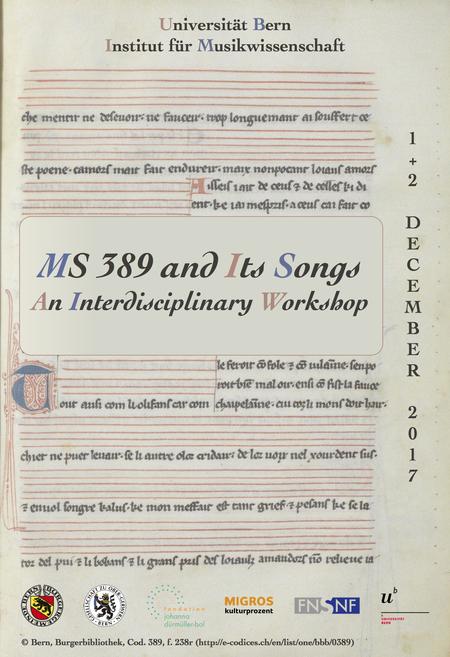 "Bern, Burgerbibliothek, MS 389": compiled in Metz towards the end of the thirteenth century, this small manuscript contains over 500 trouvère songs. The book includes songs from a wide range of genres — from typical love songs, debates and crusade songs, to religious lyric. Some of these are by famous authors such as Thibaut de Champagne, one-time King of Navarre, while others remain anonymous. Over 100 songs are known today only from this source. The manuscript includes staves for all of its songs but, tantalisingly, no notation was ever entered.
On 1/2 December, a small group of international experts from the disciplines of French studies, art history, and musicology will gather at the Institut für Musikwissenschaft (Universität Bern) at the invitation of Dr Henry Hope in order to study this fascinating manuscript. Their discussions will cover the manuscript's provenance and design, its relationship with other sources of trouvère songs, the influence of Thibaut de Champagne on its songs, and the songs' possible relationships with other genres of thirteenth-century music. In preparation for the workshop, the manuscript has been fully digitised by the online platform e-codices and will be freely available on that site from mid-December.
Together with some of their students from the Schola Cantorum Basiliensis, the early music specialists Marc Lewon and Baptiste Romain, will explore the lost sounds of MS 389 in a public concert. This will take place at St Peter & Paul, Bern (7pm) on Friday, 1 December. The concert ticket includes an apéro which will offer listeners the opportunity to engage with the performers and academics and find out more about these songs, their books, and their history.
The workshop and concert are generously supported by: the Burgergemeinde Bern, the Fondation Johanna Dürmüller-Bol, Migros-Kulturprozent, the Gesellschaft zu Ober-Gerwern Bern, the Swiss National Foundation, and the Universität Bern.
Konzert: Tout ausi com li olifans – Ganz wie der Elefant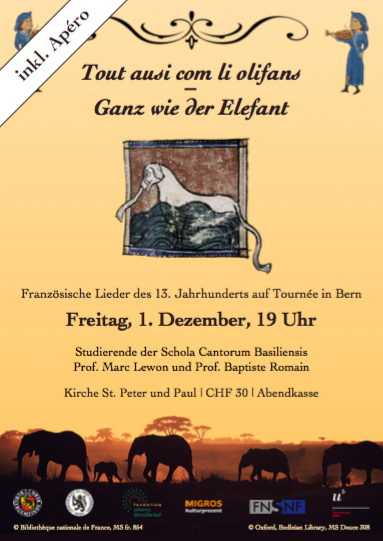 Französische Lieder des 13. Jahrhunderts auf Tournée in Bern
Seit 1632 befindet sich MS 389, eine französische Liederhandschrift aus dem 13. Jahrhundert, im Besitz der Burgerbibliothek Bern. Unter der Leitung von Prof. Marc Lewon und Prof. Baptiste Romain bringen Studierende der Schola Cantorum Basiliensis nun die Texte dieser Trouvère- Lieder wieder zum Erklingen. Im Anschluss an das Konzert in der Krypta von St. Peter & Paul (Bern) wird es bei einem Apéro die Möglichkeit geben, mit den KünstlerInnen und internationalen ExpertInnen zu dieser Musik ins Gespräch zu kommen. Das Konzert ist Teil eines internationalen, interdisziplinären Workshops zu MS 389 am Institut für Musikwissenschaft der Universität Bern (Organisation: Dr. Henry Hope) und bildet Teil der experimentellen, angewandten Forschung. Die Liedtexte der Berner Handschrift sind nämlich ohne Musik überliefert und mussten daher mit Melodien unterlegt werden, die aus der Parallel- Überlieferung in anderen Quellen bekannt sind. Im Rahmen des Konzertes kann erprobt werden, wie sich ein und dieselbe Melodie zu Text-Fassungen aus unterschiedlichen Quellen verhält und wo mögliche Modelle und gemeinsame Stilmerkmale unterschiedlicher Lieder, Sammlungen, und Handschriften der Trouvère-Kultur ausgemacht werden können. Darüber hinaus gibt die Gestaltung eines Konzerts aus dem Material von MS 389 Anlass dazu, aus Sicht der SängerInnen über die Anlage und Zusammenstellung der Handschrift zu reflektieren. Das für dieses Konzert zusammengestellte Mittelalterensemble der Schola Cantorum Basiliensis unter der Leitung von Prof. Marc Lewon (Plektrum-Laute und mittelalterliche Zupfinstrumente) und Prof. Baptiste Romain (Fidel und Renaissance Gambe) ist in idealer Weise für diese praktische Forschungsarbeit aufgestellt. Die Arbeit der Schola zeichnet sich durch ein Wechselspiel von Reflektieren und Experimentieren aus: Beides geschieht im aufführungspraktischen Spannungsfeld zwischen historically informed performance und einer rekonstruktiven historischen Musikpraxis. Die Forschungs- und Lehrtätigkeit der Schola erstreckt sich vom 9. bis ins 20. Jahrhundert und macht sie zu einem wegweisenden Forum für Alte Musik und zur Trendsetterin in der Neubelebung der musikalischen Vergangenheit. Gefördert wird das Konzert von der Burgergemeinde Bern, der Fondation Johanna Dürmüller-Bol, Migros Kulturprozent, der Gesellschaft zu Ober-Gerwern Bern, sowie dem Schweizerischen Nationalfonds zur Förderung der wissenschaftlichen Forschung und der Universität Bern.